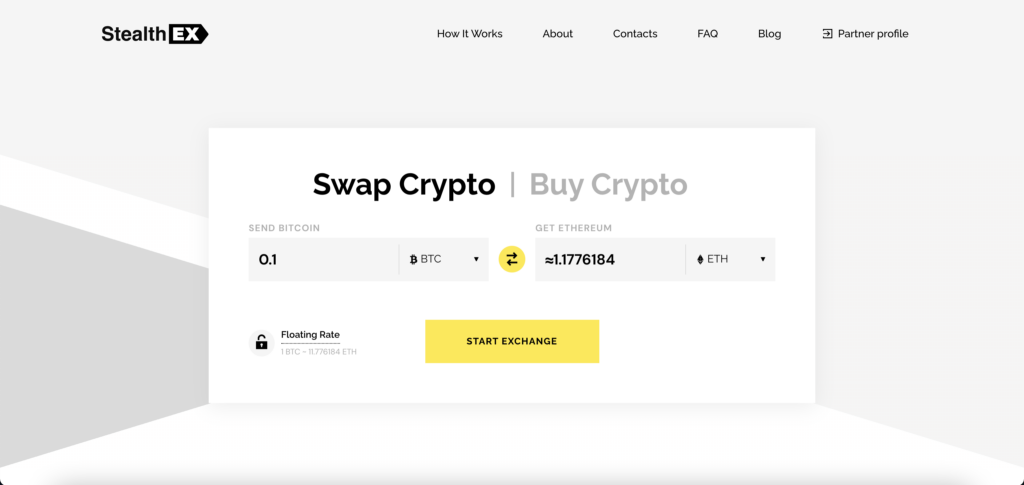 Crypto has exploded into mainstream finance over the last few years. This has led to a barrage of new exchanges, each with a differentiating factor and ever-increasing complexity. Throughout all of this, many have forgotten that there is a significant amount of crypto-holders that do not have a need for any of these additional features. All they want is a quick and easy way to exchange cryptocurrencies.
This is where StealthEX comes in. As a non-custodial cryptocurrency exchange, StealthEX offers an extremely basic set of features. However, it is great when it comes to execution, and should serve most of your needs when it comes to exchanging crypto. It should be mentioned here that there isn't a crypto referral code/bonus for StealhEX.
Summary: What is StealthEX?
StealthEX is an exchange that lays out its Unique Selling Proposition on its About page:
StealthEX is an exchange that prioritizes privacy, so much so that it is not possible for you to register on the website even if you want to. The exchange also does not provide a lot of support services e.g. wallets. You will need to have your own wallet if you want to exchange crypto on the platform.
StealthEX also does not have any limits on how much you can transact. You are free to make as many transactions as you want, with as much of the currency as you want.
Lastly, StealthEX also claims to be friendly i.e. easy to use. As someone who has used the platform for a considerably long time, I can confirm that StealthEX is one of the simplest and the most convenient platforms that you can use to exchange cryptocurrencies today.
In total, StealthEX offers two services, both of which can be accessed from the home page. You can either exchange cryptocurrencies, or purchase them with your credit/debit card. If you are looking to purchase crypto, then your options are limited. Currently, you can only purchase 9 assets. The major assets included on the list are Bitcoin, Ethereum, Bitcoin Cash, and Tether ERC 20.
Exchanging crypto is the main strength of StealthEX. It is linked to numerous exchanges like Binance and is able to tap into each of them to find the best price for you. This also means that you can access over 300+ assets through StealthEX.
Sadly, one problem with the platform is the lack of a mobile app. There is a telegram bot that you can use to exchange your coins, but that is a makeshift solution at best.
StealthEX Features
Although StealthEX is an exchange that is feature-light by design, let's take a look at some of the main advantages that you get if you use StealthEX.
An easy-to-use interface accessible from any device.
No requirement or need to register.
Over 300 cryptocurrency assets to choose from.
Ability to buy 9 different assets with your debit/credit card.
Reasonable fees for transactions.
No limits of any kind on your exchanges.
One of the best customer support teams in the crypto world.
The primary purpose of StealthEX is to keep everything simple and allow hassle-free exchanges. So, does it manage to do that? Let's take a look!
Fees, Legitimacy, and Supported Countries
StealthEX charges a small commission on your trades. The fee is added to the network fees that are necessary to transfer the crypto to your address. However, StealthEX does make sure that all of the fees that will apply to a transaction are visible to you before you confirm it.
The legitimacy of StealthEX is not under any doubt. As a service that is extremely simple, it is very easy to verify whether StelathEX makes use of any dubious practices. As far as we can tell, they do not.
Lastly, due to the fact that StelathEX is a non-custodial exchange, it is supported by all countries. Of course, this does not make transacting cryptocurrency legal if it is banned in your country. However, StealthEX does allow you to use their services regardless of where you are based.
Privacy: How Private is StealthEX?
When it comes to privacy, there really is no reason to think that you are at risk using StealthEX. This is because the website does not store or even ask for any of your personal details.
When exchanging crypto, all you need to do is to enter the address where you will receive the funds, and then transfer the funds to StealthEX. Since no registration or any other information is required, it is impossible for your personal data to be at risk.
StealthEX Security
When you initiate a transaction on StealthEX, it searches for your particular pair on four different exchanges. These exchanges are Binance, Huobi, KuCoin, and HitBTC. All four of them are known for having airtight security protocols.
That said, there is still an additional layer of protection between you and the exchange. As none of your details are provided, the exchanges have no idea who you are. StealthEX automatically finds the cheapest price for your exchange and begins the transaction.
Once you have deposited the funds, you receive your preferred currency directly to a wallet of your choice due to the non-custodial nature of the exchange. StealthEX does not provide or recommend any wallets of their own. As of writing, StelathEX has not had any major security breaches, and there are no confirmed reports of incomplete transactions, making StealthEX an extremely secure exchange.
StealthEX Support
The support is one area of StealthEX that must be commended. With a rating of 4.7 on Trustpilot, customer support is one of the areas that is constantly lauded with praise by the users of StealthEX.
If you run into any kind of problems while using the service, all you need to do is to contact the support team. The team is well-known for not only resolving any issues that arise but also for solving them quickly. Most users have reported their problems being solved within a few hours of the initial contact.
Conclusion
While we would not recommend StealthEX for people that want to purchase crypto for fiat currency, StelathEX is definitely a great service for exchanging crypto.
With over 300 assets, a fast and reliable service, and an amazing customer support team, it is difficult for you to go wrong using StealthEX to exchange your coins. Considering the fact that it is non-custodial and requires no registration also means that it will integrate seamlessly with your wallet, making it one of the most simple and convenient solutions for exchanging digital assets.
Other Exchanges
If you're looking for another exchange, we can recommend the following as well as StealthEX.